Is Google's hot new social network Google+ a serious "threat" to Facebook? Or Twitter? In the short or long term, I don't think so. But, Google+ will certainly make Facebook, in particular, more agile and determined to continue improving its array of products.
(In fact, the first thing Mark Zuckerberg said at the start of the Facebook video/Skype partnership announcement on July 6 was,"Welcome to Launch Season 2011." I took that to mean Facebook plan to roll out new features and products in rapid succession. Though, historically, that seems mostly the case!)

I wrote this blog post for those people who don't "get" Google+ yet, who are not yet on Google+, and/or who might be in a place of wait-and-see. After a few short weeks, I'm convinced Google+ will become a *major* player in the social networking arena. (Stay tuned for my post shortly after this one which will be a tutorial with marked up screenshots: 10 Simple Steps To Getting Started On Google+). Also, those businesses that want to get a head start must pay close attention to what's happening on this rapidly growing new social network.

The growth of Google+
I joined Google+ on June 29, the day after the site launched, thanks to an invite from a friend. Since then, I've been actively using the site daily, studying member behavior, and reading as many articles as possible about the platform. (My own blog post is certainly long overdue; I've had many posts about Google+ sitting in draft for the past few weeks, but have been so busy on all these social sites along with completing my next book!) Well over 14,000 Google+ members have added me to their circles. (There's no limit to how many peeps can circle you; but the max you can add to circles is 5,000). Yes, the growth is unprecedented.
It's fascinating to watch the incredibly rapid growth of Google+, the depth of sharing, the availability of heads of companies, the web celebs, the nuggets (and the noise!), and the amazing accessibility and responsiveness of the Google+ team. Not to mention that the user interface is so cool!
As you can see by the graph below, it took Google+ only 16 days to reach 10 million users. Whereas, it took Facebook 852 days and Twitter 780 days to reach the same milestone. Amazing! Of course, Google+ has the advantage of (finally) entering the social world now that this arena is more established by Facebook and Twitter. Not to mention the pre-existing large userbase Google already has from its array of excellent products.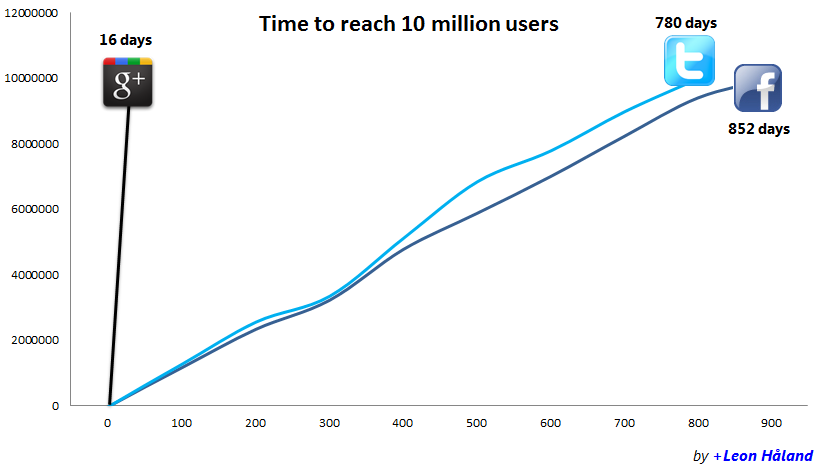 Graph by Leon Haland Data by Paul Allen
Do we need another social network?
As much as I love Facebook, I have to say that I'm extremely excited about Google+. In fact, I haven't felt this excited about a social network since I first joined Facebook in May 2007. Facebook will always be my "first love," and the site is certainly here to stay. I plan to continue building out and maintaining an active presence with my Facebook personal profile, my Facebook page, and on Twitter.
To me, it's a both/and world. It's taken me many years to build up and nurture my communities on Facebook and Twitter; I'm not about to abandon them because a shiny new toy arrived on the scene. Obviously, there are only so many available hours in the day for social networks, though, and now my intent is to simply divide up the same time between these platforms. (And, I'm not here to tell you what's right and wrong; individuals and business will need to reassess their own approach to social networking now and find what works for them).
There's room for ALL the popular social networks to co-exist. People will simply choose the social network(s) where the bulk of their friends hang out, and/or the social network(s) with the coolest features. It's early days yet, but with the sheer size of Google's existing userbase of all its products, at some point I can see Google+ overtaking Facebook as the #1 social network in the world. Yep, it's that good. Kudos to Google: I do believe they've finally…
Click Here to read Mari's full article titled, "What's So Exciting About Google+ – An Overview"